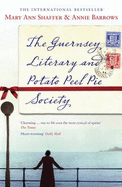 I don't read many war novels, per se, with all of their action and violence and killing, though Andrew Krivak's excellent novel,
The Sojourn
, is a recent exception to that rule. No, I prefer to know the stories of the people who get left behind, or who are outside the immediate threat of battle. This means largely, but not always, the story of
women
and war. In the last couple of weeks I have read two novels about women during World War II, and each in its way reminded me of a book from a few years ago, which I loved--
The Guernsey Literary and Potato Peel Pie Society.
If any of you dear readers loved
Guernsey
like I did, I think you might find something of interest in these other two. If you are not familiar with it, this epistolary novel, set just after World War II in London and the isle of Guernsey, is sweet, charming, and old-fashioned, in all the best senses of the words. Juliet Ashton is a journalist who begins a correspondence with the residents of Guernsey, and through their letters we get a remarkable portrait of a community's strength and perseverance during the Nazi occupation. It is a slender tome, full of both laughter and heartwarming moments, and overflowing with characters you'll wish you could call friends.
Sarah Blake's
The Postmistress
straddles two worlds: pre-war America and London during the blitz. When Emma's husband, a small town doctor in Cape Cod, MA, blames himself for a patient's death, she finds herself abandoned when he volunteers to work in a London hospital to make karmic amends. Iris is the titular postmistress in the same small town, who takes her official job as postmaster as seriously as her unofficial job of keeping her small community informed (or not) of the goings-on in the world. An ocean
and
a world apart, Frankie works for the BBC, desperately trying to tell her nightly stories in a way that will make the war seem real to her fellow Americans--real enough to sit up and participate, rather than dismiss it as something unfortunate that happens to other people. All three women cross paths after Frankie witnesses something in London and feels compelled to travel back to the US to find Emma and to confront Iris.
In the meantime, Blake does a great job of establishing how life must go on, whether you're waiting every
single
day for months to hear from your husband to know whether he is alive, or whether your home has been bombed and you have no place left to live. Most of all, though, she shows the importance of telling stories and bearing witness--that in the end, it's only our personal connections with other humans that will get us involved, either literally or metaphorically, in a way that will effect a change in this world.
Margaret Leroy's
The Soldier's Wife
takes place during the Nazi occupation of the island of Guernsey during WWII, and its third person narrative follows Vivienne de la Mare, a woman who must daily walk the fine edge between patriotism and practicality. After her husband enlists, it falls to her to keep her daughters and her ailing mother-in-law safe in a world that has suddenly become alien to her. When German officers requisition the house next door and turn out to be rather neighborly, Vivienne finds herself constantly second-guessing her actions under their scrutiny. Other islanders may be high-minded about fraternization, but Vivienne simply cannot afford those same scruples when her family's well-being is at stake. Only when food from their their own scarce supply goes missing and her younger daughter regales her nightly with tales of the ghost in the barn does Vivienne realize that there is a moral burden unfolding that might become too heavy for her to bear.
What I really liked about
The Soldier's Wife
is that unlike many wartime settings, it leaves room for people who are neither cowardly nor heroic, but somewhere in between. At first I was a little surprised about the rapport Vivienne develops with some of the German officers, but I think it is perhaps a more realistic presentation than the patriotic resistance narrated in
The Guernsey Literary & Potato Peel Pie Society
. It demands that readers reflect on what they would or would not do to preserve their family: Would you feed another starving human if it means your children will go without food? Would you risk your home as a safe house? Would you turn away from the torture or murder of a prisoner when interfering means deportment to a work camp? How do you raise your child to be a moral person when you cannot the example you want to, because to do so is to risk your life or your child's?
And there's always the smaller, garden variety dilemma. If the kind German officer across the street gives you medicine to save your daughter, are you morally required to show him gratitude when it's the German occupation that is causing the dire shortage of needful things? If so, how much gratitude? If medicine is okay to accept, what about a loaf of bread? Clothing? More than anything else, I would say that this book demonstrates that for most of us who aren't cut out to play the noble hero, the lines we draw in the sand between what we are and are not capable of doing are ever-shifting under the weight of our complicated humanity.
~Emily Crowe