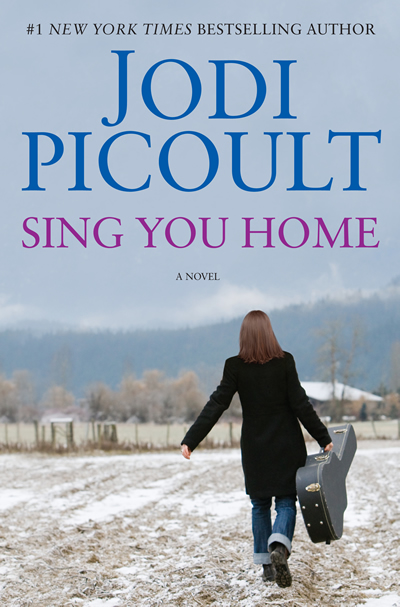 So there's this writer named Jodi Picoult. Perhaps you've heard of her? Unless you've been living under a rock for the last decade or so, your answer is no doubt a resounding "yes." Her new book,
Sing You Home
, goes on sale Tuesday, March 1, and we want everybody to know about it.
Includes a CD of original songs that Jodi co-wrote with her friend, folk musician Ellen Wilber, created especially for this novel.
Summary: Every life has a soundtrack. All you have to do is listen.
Music has set the tone for most of Zoe Baxter's life. There's the melody that reminds her of the summer she spent rubbing baby oil on her stomach in pursuit of the perfect tan. A dance beat that makes her think of using a fake ID to slip into a nightclub. A dirge that marked the years she spent trying to get pregnant. For better or for worse, music is the language of memory. It is also the language of love.
Zoe Baxter has spent 10 years trying to get pregnant, and after multiple miscarriages and infertility issues, it looks like her dream is about to come true. But a terrible turn of events leads to a nightmare--one that takes away her unborn baby and breaks apart her marriage to Max.
Zoe throws herself into her career as a music therapist. When an unexpected friendship slowly blossoms into love, she makes plans for a new life, but to her shock and inevitable rage, some people -- even those she loves and trusts most -- don't want that to happen.
Sing You Home
is about identity, love, marriage, and parenthood. It's about people wanting to do the right thing for the greater good, even as they work to fulfill their own personal desires and dreams. And it's about what happens when the outside world brutally calls into question the very thing closest to our hearts: family.
This book is a subject close to our hearts here at the Odyssey and in the Pioneer Valley--not only is it about reproductive rights, but it takes on the issue of gay rights, too. So we're extremely proud to host Jodi Picoult for a reading and booksigning on Monday, March 28. Ellen Wilber will also perform songs on stage from the CD written exclusively for Sing You Home. This event is free and open to the public, but we are asking people to contact us to reserve their free tickets in advance. Purchase of Sing You Home is required if you want to meet Jodi and get a book signed. You can find the full details at our website. We hope you'll join us for an exceptional evening!
~Emily